Concept / Teaching System
We use a comprehensive and original method developed by us and teachers with many years of teaching experience.

We call it New Fun English, which includes:
&nbsp &nbsp &nbsp • &nbsp Awesome English Teaching books;
&nbsp &nbsp &nbsp • &nbsp Engaging Weekly Homework;
&nbsp &nbsp &nbsp • &nbsp Free Eiken Test lessons (outside the weekly lessons);
&nbsp &nbsp &nbsp • &nbsp Interactive system lesson with many games;
&nbsp &nbsp &nbsp • &nbsp Digital flashcards (kindergarten, first-grader);
&nbsp &nbsp &nbsp • &nbsp Original Attendance Card, renewed every year with new illustrations;
&nbsp &nbsp &nbsp • &nbsp Original Passport for Junior High school students;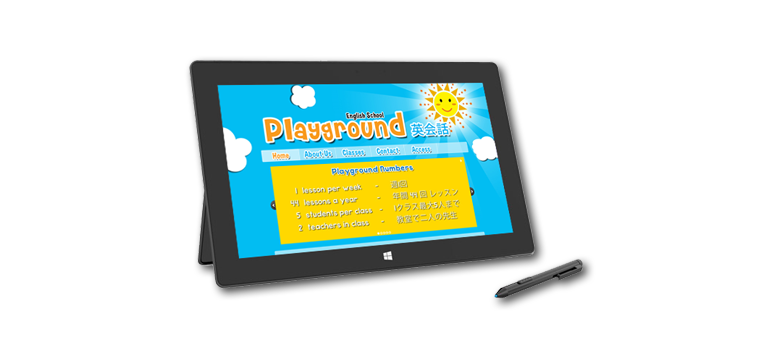 We mixed our teaching experience with our passion for teaching, and we developed our
easy-to-follow lesson plan from Kindergarten to Junior High.
We selected the books from the best publishers available in Japan and have games that help our students develop English speaking skills in a fun, creative way.
These books also teach children the English expressions and fixed phrases that often are in the
Jidou Eiken and Eiken tests.
We do special FREE Eiken Test classes to help students improve their English even more in the fundamental fields: reading, writing and listening.
We pay extreme attention to the weekly homework we give to students.

We think homework must not be too difficult and time-consuming, but it needs to be calibrated to the child's English level.

In any case, the minutes before the lesson starts, we help students who couldn't do the homework at home, and we explain the correct answers or the mistakes they have made.
A key point about Playground English School is that we want to keep our classes small so we can better track the English development of each student.
Please feel free to contact us for more information.
Playground English School has a lot of fun!
Our Halloween and Christmas parties are very popular with our students.
Every year children are looking forward to them.
At these parties, we enjoy playing games, making original crafts, eating homemade cakes, and taking pictures together.
The Pizza Party is also popular with children. They have the chance to spend time with students of other classes, cook and eat a delicious pizza together.
Please, check the videos and pictures in the TV section.